ABOUT THE PROJECT:
"Degrees Of Freedom" or "DOF" is a number of axis and sensors combined for balancing a plane, a helicopter or a robot.
3DOF : This could be a 3-axis accelerometer or it could be a 3-axis gyroscope.
6DOF : This is mostly a 3-axis accelerometer combined with a 3-axis gyroscope.
Examples:

To control a remote control (RC) plane or helicopter or a self-balancing robot, both the information of the accelerometer and gyro are needed.
An another example of 6DOF is a combination of an accelerometer and a magnetometer for a tilt-compensated compass.
Many game controllers, phones, and tablets contain a 6DOF sensor for motion information.

9DOF : This is mostly a 6DOF, combined with a magnetometer (compass).
10DOF : This could be a 9DOF, combined with a baryonic pressure sensor. The baryonic (or absolute pressure) sensor can be used as an indication of the height.
11DOF : This could be the 10DOF, combined with a GPS module.
Multiple sensors in a chip or on a board.
A 9DOF module, for example, could be a circuit board with three sensors. But some chips have an accelerometer and a gyro inside. In that case, only that sensor and a magnetometer are needed.

ABOUT THE SENSOR
Description: The SparkFun 9DoF Sensor Stick is an easy-to-use 9 Degrees of Freedom IMU. The Sensor Stick deftly utilizes the LSM9DS1 motion-sensing system-in-a-chip, the same IC used in the SparkFun 9DoF IMU Breakout. It houses a 3-axis accelerometer, 3-axis gyroscope, and 3-axis magnetometer – nine degrees of freedom (9DoF) in a single IC!
The onboard LSM9DS1 is equipped with a digital interface, but even that is flexible. The biggest difference between the two boards, besides the slimmed down 0.9″x0.4″ footprint, is the number of broken-out pins, with the Sensor Stick featuring only four for quick setup and ease of use.
The LSM9DS1 is one of only a handful of ICs that can measure three key properties of movement – angular velocity, acceleration and heading – in a single IC. By measuring these three properties, you can gain a great deal of knowledge about an object's movement and orientation. The LSM9DS1 measures each of these movement properties in three dimensions. That means it produces nine pieces of data: acceleration in x/y/z, angular rotation in x/y/z, and magnetic force in x/y/z.
Each sensor in the LSM9DS1 supports a wide spectrum of ranges: the accelerometer's scale can be set to ± 2, 4, 8, or 16g, the gyroscope supports ± 245, 500, and 2000°/s, and the magnetometer has full-scale ranges of ± 4, 8, 12, or 16 gauss.
Features:
3 acceleration channels, 3 angular rate channels, 3 magnetic field channels
±2/±4/±8/±16g linear acceleration full scale
±4/±8/±12/±16 gauss magnetic full scale
±245/±500/±2000dps angular rate full scale
I2C serial interface
Operating Voltage: 3.3V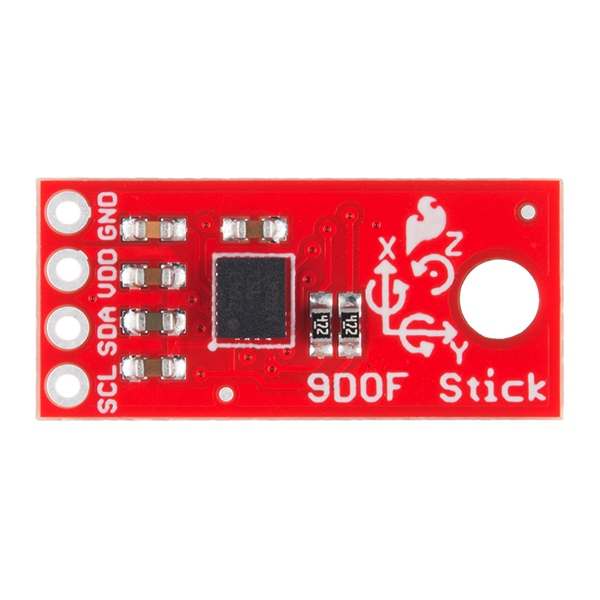 Documents:
DATASHEET OF 9DoF Stick (clickable image)
PIN CONFIGURATION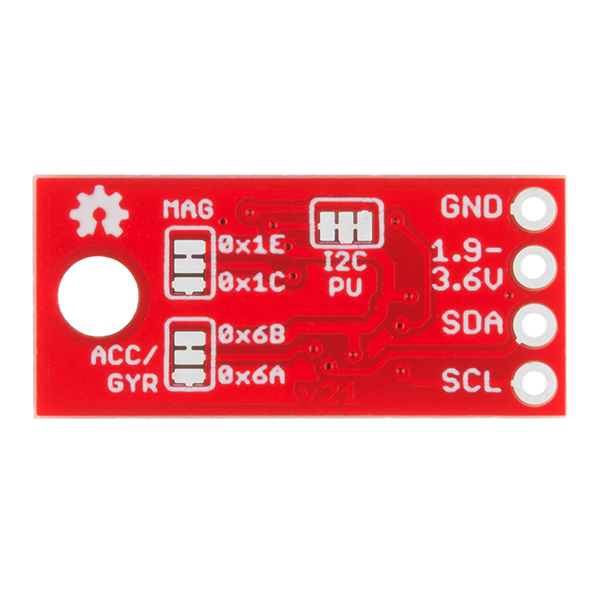 SOFTWARE REQUIRED
ARDUINO IDE (for windows)
SCHEMATICS
9DoF Stick (CLICKABLE IMAGE)
ARDUINO SOURCE CODE

void

changeEndian

(

union

XYZBuffer

*

xyz

)

{

    xyz

->

buff

[

i

]

=

xyz

->

buff

[

i

+

1

]

;

// Generically useful reading into a union type

void

readXYZ

(

int

device

,

union

XYZBuffer

*

xyz

)

{

  Wire.

requestFrom

(

device

,

6

)

;

 

while

(

!

Wire.

available

(

)

&&

(

millis

(

)

–

start

)

<

100

)

;

 

if

(

millis

(

)

–

start

<

100

)

{

      xyz

->

buff

[

i

]

=

Wire.

read

(

)

;

void

setupAccel

(

int

device

)

{

 

// Check ID to see if we are communicating

  Wire.

beginTransmission

(

device

)

;

  Wire.

write

(

0x00

)

;

// One Reading

  Wire.

requestFrom

(

device

,

1

)

;

 

while

(

!

Wire.

available

(

)

)

;

  Serial.

print

(

"Accel id is 0x"

)

;

  Wire.

beginTransmission

(

device

)

;

  Wire.

beginTransmission

(

device

)

;

void

readAccel

(

int

device

,

union

XYZBuffer

*

xyz

)

{

  Wire.

beginTransmission

(

device

)

;

  Wire.

write

(

0x32

)

;

// One Reading

void

setupCompass

(

int

device

)

{

 

// Check ID to see if we are communicating

  Serial.

print

(

"Compass id is "

)

;

  Wire.

beginTransmission

(

device

)

;

  Wire.

write

(

10

)

;

// One Reading

  Wire.

requestFrom

(

device

,

2

)

;

 

while

(

!

Wire.

available

(

)

)

;

  Wire.

beginTransmission

(

device

)

;

  Wire.

write

(

0x00

)

;

Wire.

write

(

0x70

)

;

  Wire.

beginTransmission

(

device

)

;

  Wire.

write

(

0x01

)

;

Wire.

write

(

0xA0

)

;

  Wire.

beginTransmission

(

device

)

;

  Wire.

write

(

0x02

)

;

Wire.

write

(

0x00

)

;

//  Reading

void

readCompass

(

int

device

,

union

XYZBuffer

*

xyz

)

{

  Wire.

beginTransmission

(

device

)

;

void

setupGyro

(

int

device

)

{

 

// Check ID to see if we are communicating

  Wire.

beginTransmission

(

device

)

;

  Wire.

write

(

0x00

)

;

// One Reading

  Wire.

requestFrom

(

device

,

1

)

;

 

while

(

!

Wire.

available

(

)

)

;

  Serial.

print

(

"Gyro id is 0x"

)

;

void

readGyro

(

int

device

,

union

XYZBuffer

*

xyz

)

{

  Wire.

beginTransmission

(

device

)

;

void

pad

(

int

width

,

int

number

)

{

 

for

(

int

i

=

0

;

i

<

w

;

i

++

)

Serial.

print

(

' '

)

;

void

output

(

union

XYZBuffer xyz

)

{

  Serial.

print

(

xyz.

value

.

x

)

;

  Serial.

print

(

xyz.

value

.

y

)

;

  Serial.

print

(

xyz.

value

.

z

)

;

  Serial.

begin

(

9600

)

;

 

// start serial for output

  Wire.

begin

(

)

;

       

// join i2c bus (address optional for master)

  setupCompass

(

COMPASSADDR

)

;

 

union

XYZBuffer compass

,

gyro

,

accel

;

  readAccel

(

ACCELADDR

,&

accel

)

;

  readCompass

(

COMPASSADDR

,&

compass

)

;

  readGyro

(

GYROADDR

,&

gyro

)

;
HAPPY INTERFACING
SHUBHAM GUPTA-TECEX